White kitchens are a timeless look and can bring your home a fresh and bright feel. Homeowners looking to rejuvenate their kitchens may consider this lasting style as they're planning their new kitchen design, but they might encounter the question: are white cabinets hard to keep clean?
Although white kitchen cabinets may seem like a hassle to maintain in your home, there are a few ways you can still achieve your all-white kitchen dream. In this blog, we'll dig into the pros and cons of owning white kitchen cabinets and what you can do to keep them gleaming and bright.
Benefits of White Kitchen Cabinets
As neutral shades, white colors bring classic elegance to a kitchen and open opportunities for diverse textures, styles, and accent colors. Whether you're striving for a traditional or contemporary style for your kitchen, white cabinet doors are a versatile choice.
Even the most subtle changes in your white cabinet kitchen—like switching from warm metallic gold to sleek black knobs—can dramatically transform your kitchen into a different style. Thanks to the versatility of white kitchen cabinetry, your kitchen's interior design can have a wide range of looks without costly remodeling.
White cabinets can also naturally expand a room to make it feel more open and lit, creating an uplifting ambiance for your early mornings and late evening dinners. Your cabinet's white shades add a pristine and clean look that darker colors can't quite achieve.
Beyond the aesthetics of this color choice, white kitchen cabinets easily bring attention to dust and dirt, making cleaning much easier for homeowners. The spotless look can be a daunting appearance to maintain, but the white shades can be used as a functional advantage when it comes to cleaning your kitchen.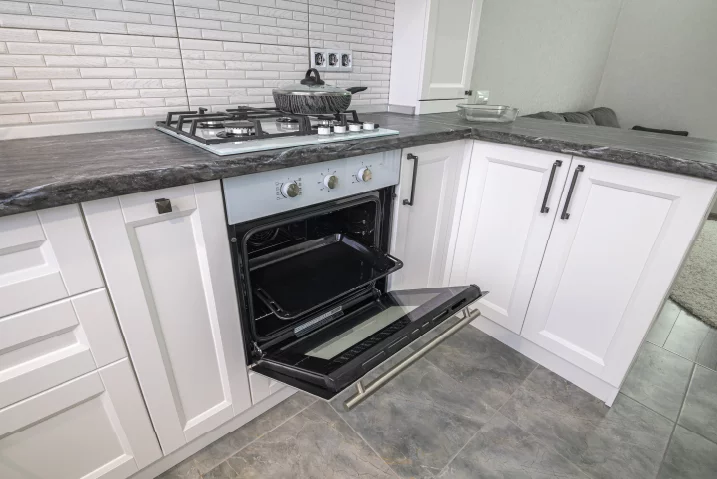 Challenges of Having White Kitchen Cabinets
White kitchen cabinets can pose a challenge for bigger kitchens, naturally widening your space. This can make your area feel too open, and it may seem difficult to fill the exposed parts of your kitchen. Building a homey kitchen may require some creativity and more decor to fill the empty spots if your cabinets were painted white.
Choosing the best shade of white for your painted cabinets can be a tricky task when you're considering which tones compliment your walls and floors. Your cabinet shades must harmonize with the natural light, kitchen appliances, and your kitchen decor, and you may be searching for a lasting shade of white that doesn't feel too cold and empty but still brings a pristine appearance to your cabinets.
The upkeep for white kitchen cabinets can be tough because your white surfaces can't conceal smudges and stains as easily as painted cabinets with darker colors. From troublesome grease particles to smoke that stains, your white cabinets are at risk of losing their original sparkling look. You may find yourself investing more time in cleaning and protecting your cabinets from dust and dirt. Homeowners setting their sights on white kitchen cabinets ask: are white cabinets hard to keep clean?
Maintaining Your White Cabinets
With the right homeowner habits and high-quality cabinets, protecting your white kitchen cabinetry from wear and tear can be made easy.
Developing a thorough kitchen cleaning routine makes a big difference in defending against serious build-up and aged stains on your painted cabinets. You can spray your cabinets with a solution of warm water and an all-purpose cleaner or white vinegar to wipe down each cabinet. Microfiber cloths and sponges are handy to keep in your kitchen for your daily cleaning purposes.
Wax paper is a great tool for wood cabinet protection. The tops of your cabinets are prone to thick layers of grease, and they can be a forgotten part of your daily cleaning routine. Lining the top of your cabinets with wax paper will naturally collect grime and protect your surfaces from any potential grease stains. Wax paper is especially helpful for saving time in your cleaning routine.
Cooking grease residue from frying and boiling can be a challenge to overcome, but proper use of your range hood and exhaust fan makes for an easy fix. You can also use a simple solution of vinegar, baking soda, and warm water to counteract those stubborn grease stains. For a thorough cleanse, use a damp sponge or a soft-bristled toothbrush to reach small crevices and overlooked spots on your white kitchen cabinets.
High-Quality Cabinets at Buy Wholesale Cabinets
White kitchen cabinets can bless you with a kitchen style that stands the test of time. They're versatile, clean, and a beautiful addition to your space. Despite the common worry of whether white cabinets are hard to keep clean, maintaining simple cleaning habits in your kitchen is the best way to achieve your dream white kitchen cabinets.
Attentive maintenance and high-quality cabinets made with durable material are a must for your white kitchen cabinetry. For high-quality cabinets that are built to last, check out the Buy Wholesale Cabinets catalog. All the cabinets that we offer are made of solid wood—never particleboard or MDF—and feature UV-coated interiors, dovetail drawers, soft-close features, and many more artisanal details. Contact us today for a free quote!