Depending on the scope of your project, your kitchen renovations can be incredibly costly. If you account for the installation costs, materials, and extra kitchen features, you might consider a kitchen cabinet upgrade completely out of your budget. However, with the right approach to your renovations, you can still achieve your dream kitchen without spending a fortune.
This guide will take a deep dive into how to save money on kitchen cabinets and the best ways you can build a kitchen you'll fall in love with.
Storage Strategy
Your kitchen cabinets are the heart of your kitchen design and provide housing for your ingredients, assortment of cooking appliances, and growing cookbook collection. It's handy to have a lot of cabinets for abundant storage, but investing in the right amount of storage space for essential kitchen equipment can help you lower the cost of kitchen cabinets.
Before making an eager purchase on cabinets you may not need, make a thorough inventory assessment of your kitchen supplies. Ask yourself, "What are the items I use on a daily basis and really need?" Having a realistic idea of how much storage space you need will not only help you determine how many cabinets fit your lifestyle but keep your everyday space clutter-free and clean.
Get Creative with Interior Design
The great thing about starting a kitchen remodeling project is that you can be innovative with your space—including your storage. Beyond the wall cabinets on the market, open shelving allows your kitchen to embody personality and show off your kitchen collection of pots, pans, and other miscellanea.
When it comes to the items you use on a daily basis, such as your coffee mugs and glass cups, your walls can be an advantageous alternative to storing your items in cabinets. Floating shelves and open shelving provide easy access to your things and create a charming display in your kitchen. Limiting your wall cabinets and relying on just base cabinets in your interior design gives your kitchen space a light, spacious feel without the extra costs of more cabinets.
Affordable Wood Species
Choosing the material for your kitchen cabinets can be the most expensive part of your kitchen renovation project. With your remodeling cost in mind, it's important to invest in an affordable wood species that can help your cabinetry last longer in the long run and even add value to your home. The most affordable woods for your kitchen cabinets are pine, oak, alder select, and medium-density fiberboard (MDF). These types of woods provide homeowners the chance to skip the costly cabinet sets without compromising the quality and durability of their storage spaces. Cherry and maple wood cabinets are on the expensive side of the cabinet selections and can be the main reason for a costly price tag. Pay close attention to the wood that makes up your cabinets.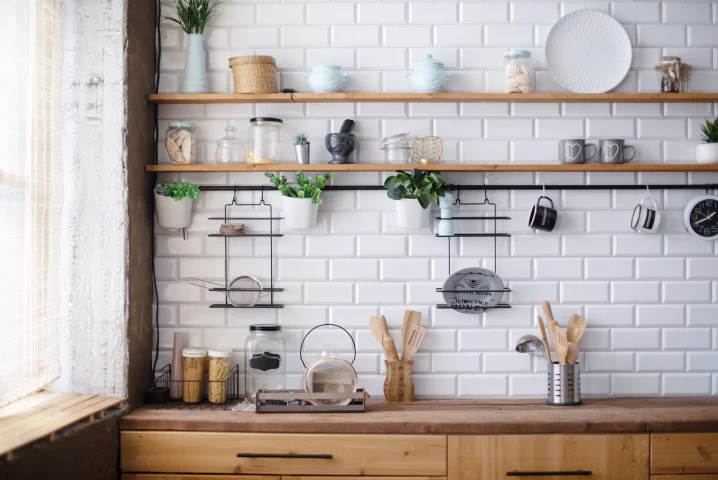 Revamping Your Existing Cabinets
Whether you're looking into a kitchen with light, natural wood colors or exploring sultry, dark color schemes, you have a range of options to paint or stain with the right stain product. Be mindful of how you spend your money on kitchen design. There's no need to completely replace your existing cabinets altogether if the color scheme is your biggest concern. Especially for cabinets that are dingy or outdated, staining is a budget-friendly option and saves you the hassle of stripping your old cabinets, investing in new ones, and installing them.
The best part of staining the cabinets you already own is that it saves you time and energy in your kitchen renovation project. If you're aiming for a darker set of wood cabinets, you can quickly sand down your cabinets' existing top coating for a rough finish. Your dark stain product will easily coalesce with its original stain with a rough base, which makes this a quick and easy project.
For a light-colored cabinet style, sanding down your cabinets to the original surface of the wood is an essential step for this project. This will help create a better base that will let your white and grays show, not compete with the original stain. For safe measures, test out your stain in a discrete spot and wipe the stain shortly after application to achieve that light-colored appearance.
Cabinet Styles
As you brainstorm for your new kitchen design, consider styles that will last beyond the wavering kitchen trends that come and go. Think simple and minimalistic. Shaker-style, flat panels, and slab-style cabinet doors are affordable options that still bring style and personality to your home. These cabinets accomplish a sleek and clean finish and accentuate your kitchen decor. Investing in a style you'll love for a long time helps you avoid future costly renovations for cabinets that have fallen out of trend.
Additionally, functionality is an important aspect to keep in mind. Intricate cabinet door designs are usually pricier than minimalistic cabinets. Raised panel doors are detailed with embellishments and can easily break your wallet for your kitchen remodeling. Simple cabinets accomplish the same function as detailed cabinets—storing your kitchen items. Opting out for simpler designs for your cabinet doors is a great financial strategy to remain on budget and have a practical kitchen space.
Custom Modifications
Intricacy and upgrades make a pricier cabinet set. Customizing your cabinets can look like integrating soft-close drawers, full-extension slides, or an impressive spice rack. Modifications can range from elevating the crown molding to building a platform for island cabinets. Depending on where the cabinets are installed in the kitchen space, some homeowners need to cut holes in the cabinet to accommodate water lines, wall obstructions, and gas pipes. Whatever the modification, you'll need to account for the labor costs to complete and install your custom cabinet.
Your best move would be to keep your customization to a minimum. Simplicity is key. Take the time to assess what you need in a kitchen and the practicality of the upgrades you have in mind for your cabinets. You can save a lot after making a priorities list of your kitchen features and determining what realistically fits in your budget.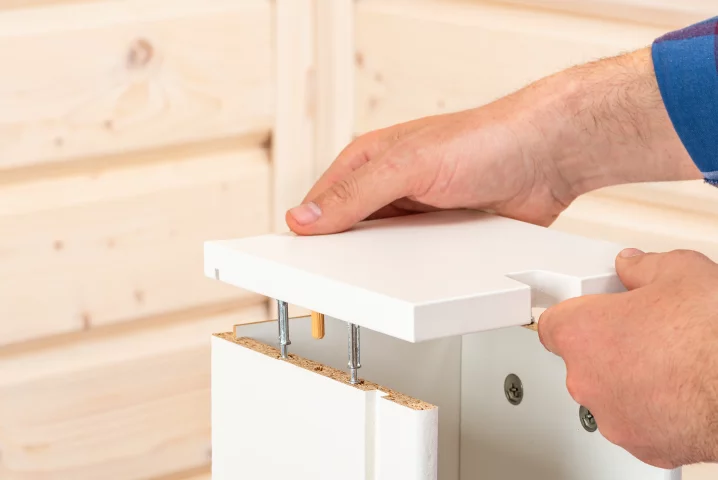 Do It Yourself
Installation costs can make a great impact on your kitchen renovation budget and ultimately be an unwise choice for simple projects you can take on yourself. Ready-to-assemble cabinets are an alternative route to hiring professionals to install them for you. In most cases, the shipping costs are much cheaper than the fully assembled cabinets because they take up less space, and you get to skip out on the labor charges for assembling your cabinets. Furthermore, RTA cabinets are the same quality as fully assembled cabinets—the only difference is who assembles the cabinet.
Quality Cabinets at Buy Wholesale Cabinets
There are a multitude of ways to stay on budget for kitchen renovations without compromising your dream style. From tapping into your innovative, crafty side with storage to assembling your cabinets with your own hands, you can easily and strategically save a ton. However, this guide only scratches the surface on how to save money on kitchen cabinets!
Investing in high-quality cabinets would be the best start to achieving your dream kitchen that'll make a lasting presence in your home. Buy Wholesale Cabinets offers a wide selection of solid wood cabinets that are designed to not only last but fit any kitchen style you're aiming to execute. From traditional to modern looks, Buy Wholesale Cabinets provides affordable cabinets tailored to your vision and budget. Visit our catalog  to see what we have to offer, and then head over to our website for a free quote on your cabinets!